MARKETING GROWTH SERVICES:

USE EMAIL MARKETING TO NURTURE CUSTOMERS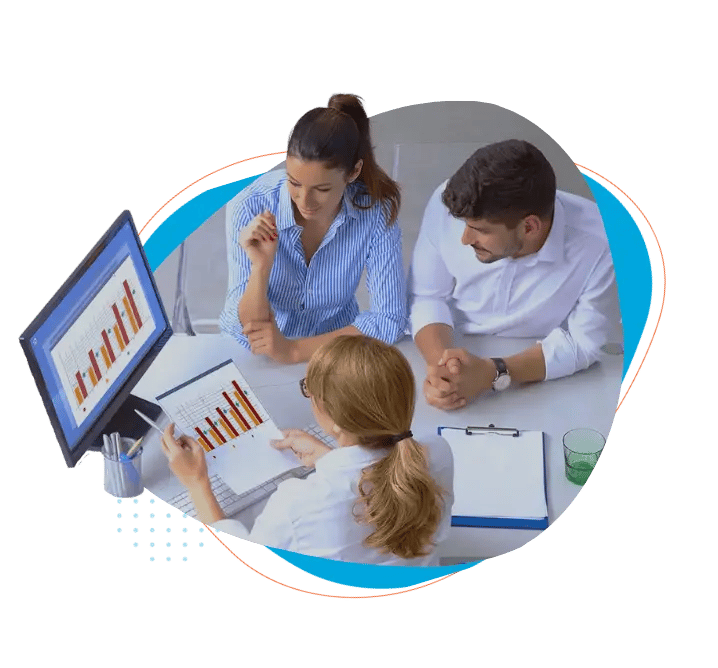 Grow stronger bonds with customers and stay top-of-mind with the right email marketing strategy.
Now that we've explored the buyer's journey and how to match content to where a person is in their journey, let's shift the focus to email marketing. As you'll see, it has a lot in common with content marketing.
Table of Contents:
Key Takeaways

Email marketing is about sending relevant messages to contacts.
Emails should sync with the contact's current stage in the buyer journey: awareness, consideration, or purchase.
Marketing emails can broadly be categorized into four types: newsletter, announcements/promotions, acquisition, and retention.
Effective email marketing boosts brand awareness and increases customer engagement, retention, and loyalty.
What Is Email Marketing?
Email marketing is simply sending emails to your contacts, prospects, and clients. But like content marketing, successful email marketing relies on centering your efforts on your clients' needs rather than your own. Also, it's important to match the message of your emails to the contact's stage in their buyer journey. As a brief reminder:
Contacts in the awareness stage often have a symptom, need, or problem that they need to solve. At this sage, they're primarily looking for information.
Contacts in the consideration stage have identified their problem and are comparing solutions to their problem, steps to achieve their goal, etc.
Contacts in the purchase stage are ready to buy and are looking for detailed, specific information about why they should purchase your products or services.
The Benefits of Email Marketing for Manufacturers
To understand the benefits of email marketing for manufacturing companies, look no further than your own inbox. Poorly-written emails or those with messages and offers that aren't relevant to your goals go straight to the trash folder. Other emails might seem interesting, but they don't move you to take any action.
In fact, 2021 stats from Constant Contact show that the average email open rate is 25 percent and the click-through rate (i.e. clicking at least one link in the email) is 1.25 percent. For manufacturers, the click-through rate is just .99 percent.
Email marketing can help you get your information to your customers when they're the most receptive. Plus, it's quite inexpensive compared to traditional mailing and advertising.
Challenges Solved by Email Marketing
Low open/response rates. "We're sending emails, but most of them don't get read."
Lead generation. "Our emails aren't generating sales contacts like we'd hoped." "Our contacts aren't replying to our emails."
Customer engagement/retention. "Our emails don't seem to connect with our clients." "Our clients don't seem interested in our message."
How to Do Email Marketing Right
Marketing emails can broadly be categorized into four types: newsletter, announcements/promotions, acquisition, and retention. Within these categories are almost endless options, including:
Product/service announcements (promotional/announcement). If you're making changes to your offering, email is a great way to let people know; this can also help keep you on contacts' radar if you're not someone they regularly do business with. These emails usually go out to everyone in your contact list, although it's a good idea to tailor the message to each customer segment.
Event invitations (all). Are you hosting a webinar? Do you have how-to or training videos on YouTube or a similar site? These can really get prospects interested in your business, so feel free to share them. They can also be useful to existing clients, so if the topic seems relevant, share it with these contacts, too.
Company announcements (all). Is someone in your organization speaking at an industry event? Have you posted interviews with employees or customers on your blog? Let people know about it!
Newsletters (all). Newsletters are usually sent quarterly or monthly and serve as a roundup of your company and industry news. They can include content referencing all the information covered in the first three points, plus other information that your audience might find interesting.
Email sequences (acquisition). Usually, email sequences are sent to prospects immediately after they provide an email address. Over a series of individual messages, they introduce your company and product, slowly building trust, awareness, and familiarity.
Reminders and follow-ups (acquisition and retention). These emails might be sent to remind someone to reorder, to follow up on an order or complaint, or to remind a prospect about an earlier conversation.
Informational (all). If you've found some industry news, a new report, or something relevant to your audience, share it with them without introducing any sales element. This will show that you care about their success, not just about what they bring to your bottom line.
Who gets what email? As a rule, newsletters, promotional emails, and announcements go to everyone on your email list. Informational emails do too, although you may need to tailor your approach to each segment. Acquisition emails go to prospects; retention emails go to current clients.
Another tip: Keep the focus on your contact's needs. Unless you're writing a sales email (e.g. a limited-time offer, introducing a new product, ect.) don't stress the sales angle too heavily.
Finally, don't neglect personalization. You don't have to write an individual email to each contact, but you should include their name and tailor the messaging to their particular interests. If you've already segmented your customers, customizing one email message for each segment is a good start.
Do you have a website that isn't getting found online? Improving your Search Engine Optimization (SEO) can help you climb up the results page. Find out more in our next post!