CUSTOMER SERVICE SOLUTIONS:

HOW TO BUILD A KNOWLEDGE BASE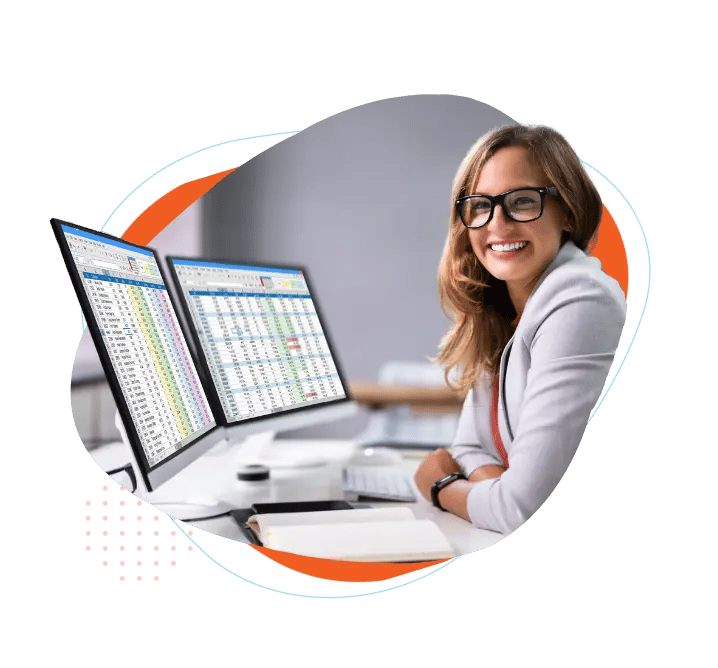 USE A KNOWLEDGE BASE AS AN EFFICIENT SOLUTION TO SAVE YOUR CUSTOMERS AND EMPLOYEES TIME AND DIFFICULTY.
Does your sales or customer support team find itself answering the same questions over and over again? Are technicians frequently getting called in to fix the same rather simple issues? Internally, is product or service information hard to find or scattered across various departments?
If the answer to any of these questions is "yes", you need to develop (or revamp) your knowledge base. A robust knowledge base not only lets customers quickly find answers and solve their own problems, it also serves as a convenient information repository for customer-facing teams. Properly done, it can cut down on teams' workload and streamline their jobs. So, let's see how you can build a strong knowledge base.
Table of Contents:
Key Takeaways:

Knowledge bases allow customers to find answers to their own questions and fix minor problems without depending on your sales or support teams.
Knowledge bases can reduce the time teams spend finding information and dealing with common requests. They can also serve as a centralized information source for employees.
To be effective, a knowledge base should be simple, consistent, available, and regularly updated.
What Is a Knowledge Base?
A knowledge base helps users (and employees) find answers to questions they might have about your product, service, service agreement, etc. It usually consists of a broad collection of online articles, but it can also contain a FAQs (Frequently Asked Questions) section, a forum, how-to articles and videos, case studies, dictionaries, manuals, product guides, spec sheets, safety information, and so on.
The goal of a customer-facing knowledge base is to help customers solve their own problems and answer their own questions. For example, a computer manufacturer's knowledge base might include:
Spec sheets for each product line.
Manuals and setup guides.
Maintenance and troubleshooting videos.
Answers to common questions.
A forum where users can ask questions and get answers from other users or company reps.
Knowledge bases are incredibly popular with customers because they allow customers to solve their issues quickly, without waiting for an employee to respond. They also allow prospects to find the information they need while researching a company.
For employees, knowledge bases free them from repeatedly answering the same simple questions or dealing with the same requests. This allows them to redirect their time to higher-value (and more satisfying) activities. Knowledge bases also make it easier for customer-facing teams to locate information; some companies have external (customer-oriented) and internal (employee-oriented) knowledge bases.
Any way you slice it, the goal of a knowledge base is to make knowledge accessible and available to anyone who needs it. Let's see how that can be achieved.
Challenges Solved by Building a Knowledge Base
Lack of Self-Service Options. "Our customers have to contact sales or service for help with the same questions."
Customer Support Backlogs. "Our customer support team spends a lot of time addressing the same simple problems."
Lack of Centralized Information. "We have information, but it's scattered in different departments and is not easily accessible."
How to Build a Robust Knowledge Base
A robust knowledge base reduces or eliminates response times and provides a more consistent and scalable customer experience. To create an effective knowledge base, you must first spend time understanding users and planning the best architecture for your base. This means:
Considering user needs. Find out what questions and problems customers have and feature these in your knowledge base.
Creating a consistent structure. Use the same format for all articles and design the site so customers can easily find answers to their most common issues immediately.
Using simple and understandable language. Don't write the help content for your fellow manufacturers, engineers, etc. Write it so that your customer can understand; avoid industry jargon and explain unfamiliar terms or procedures.
Including visual elements and multimedia guides. It can be much easier to do a repair after watching a short video. Use screenshots, pictures, images, diagrams, and videos to help explain troubleshooting or maintenance that the user can do. If possible, offer accessibility options like screen readers, audio files, and closed captions for users who have low hearing or vision.
Updating content regularly. Whenever you add a new product or make changes to your current service, offering, etc., update your content to reflect these changes. It's best to do this as it happens rather than waiting until you have many products or services to update.
Ensuring availability. Not only should your knowledge base be publicly available (usually as part of your company website), it should have options for users with visual, auditory, or other issues.
For a good example of a knowledge base, check out the Google Workspace Learning Center. You can see that it covers multiple products (Sheets, Docs, Gmail, etc.) and includes a lot of information. Yet, the design stays consistent regardless of which product you search. It's also structured around a user's point of view and highlights common tasks, like switching from another product or accomplishing a specific goal.
Help desk employees are on the front lines of customer service. Our final article will examine how you can provide exceptional customer support to your clients.