CUSTOMER SERVICE SOLUTIONS:

HOW TO CAPTURE CUSTOMER FEEDBACK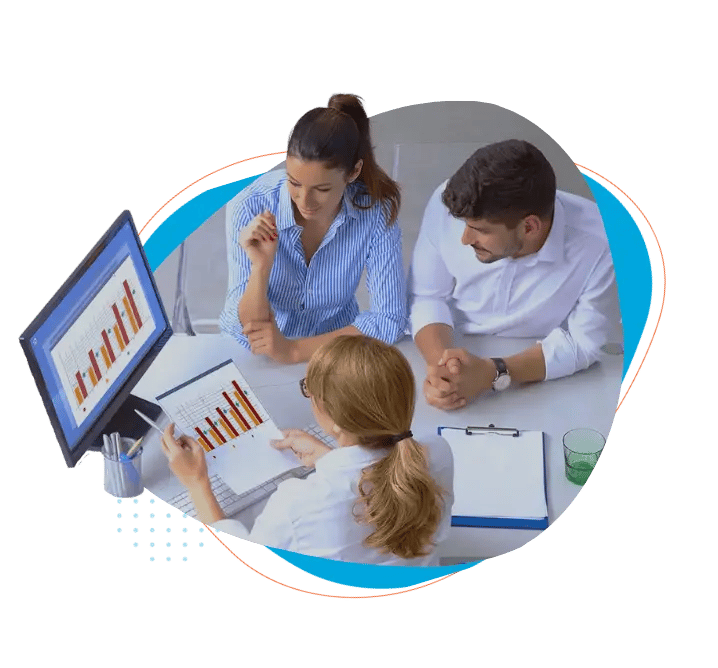 Improve customer satisfaction and engagement when you capture customer feedback
Want to know the direction your company is heading? Check out your customer feedback.
Customer feedback is everything your customers say about your company. Ideally, you want to capture their honest opinion of your company's service levels, product, what you do well, and what needs to improve. This information can help you determine what decisions to make to help your company thrive.
Today's B2B businesses rely on customer feedback just as much as their B2C counterparts. In this article, we'll talk about how you can capture customer feedback and use it to improve your customer service and your business as a whole.
Table of Contents:
Key Takeaways:

Before trying to capture customer feedback, have a clear goal in mind.
When asking for customer feedback, be specific and brief.
Simple surveys like Net Promoter Score, Customer Effort Score, and Customer Satisfaction Score can help you measure how well you're meeting clients' needs.
Why, When, and How to Capture Customer Feedback
Before you start considering when to ask for feedback from your clients, consider why you're asking. What needs to be improved in your business? What information will help you reach that goal? If, for example, you notice a slowdown in the last step of your sales conversion process, asking how well the customer support team resolves problems won't help!
Once you have a clear goal, you can decide when to ask for customer opinions. The most common times are after a transaction has been completed (i.e. a sale, maintenance call, support request, etc.) or as part of a regular outreach (e.g. a yearly or semi-yearly review).
Finally, how will you capture customer feedback? There are multiple options, including:
Using online (or paper) forms and surveys.
Directly asking for it in person, via e-mail, or over social media.
Using social media listening to find out what people are saying about your company.
When you do ask for feedback, be specific and brief. Ask clients questions that directly pertain to the area you want to improve; avoid vague or overly-generalized questions. "On a scale of 1 to 10, how satisfied were you with our product X" is good; "How happy are you with our company?" is unlikely to return a useful response because it doesn't ask for specifics.
Challenges Solved by Collecting Customer Feedback
Customer Engagement. "Clients don't seem interested in our company."
Client Disconnection. "It seems like there's a disconnect between our company activities and our audience's needs."
Low Customer Satisfaction. "Our customers aren't very happy with our service or product."
Three Surveys to Help You Capture Customer Feedback
Surveys have long been the go-to for collecting customer input. Tools like Google Forms and SurveyMonkey (among many others) make it easy and very cost-effective to gather customer feedback online. And you can create just about any kind of survey that you want. Keep in mind, though, that survey size matters; respondents often bail out on long, complex, time-consuming versions. That's why many standardized short surveys have been developed. Some of the most popular include:
Net Promoter Score (NPS). This super-short survey – usually just a single question – asks how likely the client is to do some positive action: refer a friend, continue doing business with your company, etc. This measures customer satisfaction and potential loyalty; the higher the score, the better.
Customer Effort Score (CES). Another one-question wonder, this survey measures your customer's experience with a product or service. The customer's reply is usually given on a scale from "Very hard" to "Very easy". This lets you see how well your product is working and how likely customers are to keep using it; a poor score indicates poor user experience and lets you know changes need to be made.
Customer Satisfaction (CSAT). Another simple question, another key metric. The CSAT score shows how happy the customer is with your product or service. This can be directed at specific aspects of their experience, such as sales, post-sales followup, customer service, etc.
Capturing Feedback on Social Media
Social media can be a great way to learn what people really think about your brand, but how can you effectively utilize it?
Read comments left on your company page (Google reviews, Facebook, LinkedIn, etc.). If you're a relatively small company, you can do this with little effort. If possible, reply to all comments in a professional way; this shows you value each person's opinion.
Use social listening tools. If you don't have the time, inclination, or know-how to monitor your own social accounts, you can use an

automated social listening tool

to do it for you. They track mentions of your company across various platforms and help you understand what your audience really thinks and needs.
Ask for feedback directly. Not everyone will respond, but some will. It's a great way to get the conversation started.
Finding needed information is a key component of customer happiness. With most B2B buyers searching for information online, a knowledge base is a key part of your customer service strategy. Find out how to build a robust knowledge base in our next article.