WHAT IS AN


INBOUND MARKETING AGENCY?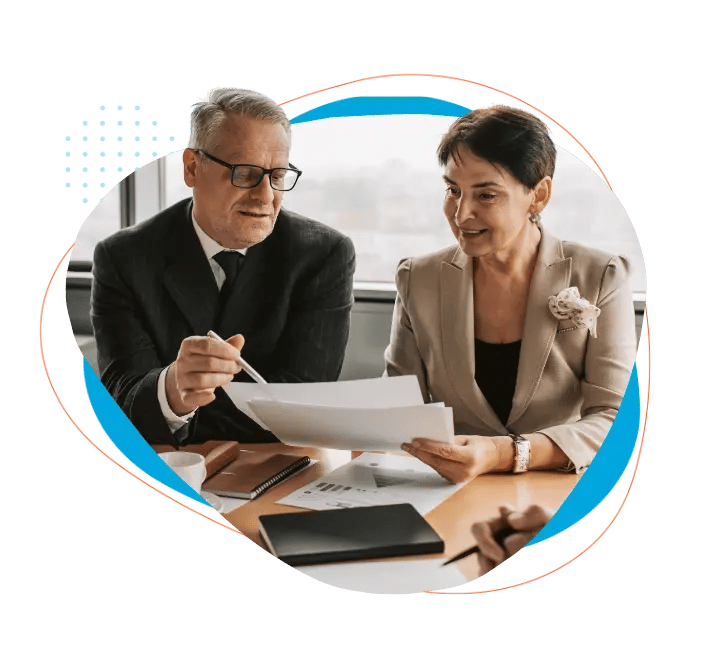 An Inbound Marketing Agency can help you achieve long-term, sustainable, and customer-focused growth.
An inbound marketing agency uses the inbound methodology to help companies attract the right kind of customers, develop qualified leads, and sustainably grow their business. It uses digital tactics like content marketing, search engine optimization, social media, online advertising, and more. Inbound agencies also align with your sales and customer service teams to leverage technology that gives a 360-degree view of your interactions with customers and prospects to deliver more targeted experiences to customers.
Let's see how inbound marketing works and what it can do for your company's marketing efforts.
Table of Contents:
What Is Inbound Marketing?
To understand what an inbound marketing agency does, it's important to understand inbound marketing.
Inbound marketing targets their activities to where someone is in their customer journey. It starts with the attract stage, which uses tailored web content to draw potential customers to the company. It's important to note that this phase is designed for persons who match specific characteristics, as defined in a buyer persona. (Companies can have one or many buyer personas.)
After attracting the person's interest with educational and meaningful content, the emphasis shifts to the engage stage. This is where the company presents their solutions to the customer's problem and demonstrates their value to the lead. This is followed by the delight stage, where the company continues to build a strong relationship with the customer through follow-up and support.
The inbound methodology is relationship-driven rather than process-driven. It uses a flywheel instead of a funnel to represent customers' movements in their journey. This more accurately represents the circular nature of transactions: repeat customers also need to be educated, engaged, and nurtured. The flywheel also reflects the cooperation between marketing, sales, and customer service in providing an exceptional experience to prospects, leads, and customers.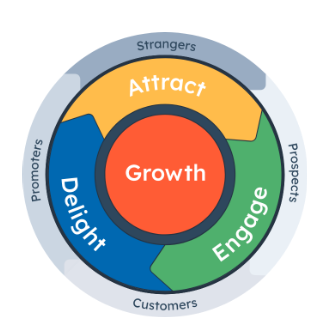 What Does an Inbound Marketing Agency Do?
An inbound marketing agency uses strategies, channels, and tools to support the inbound process, help customer-facing departments synergistically improve their performance, and ultimately help businesses grow. This marketing agency's skillset usually features:
Website design and development
Web content marketing (including online articles, blog posts, online videos, emails, white papers, website content, etc.)
Social media marketing
Paid media marketing
Search engine optimization
Sales training (i.e. handling inbound calls, focusing on solutions rather than products, etc.)
Lead management
Customer service strategies (i.e. surveys, chatbots, in-person interaction guidance, etc.)
In addition to helping you create marketing plans and strategies, an inbound marketing agency can also help you choose software tools to support your efforts. Common examples include customer relationship management programs, social listening tools, survey tools, chatbots, and marketing automation and analytics tools.
When Might You Need an Inbound Marketing Agency?
If you're having trouble with any of the following, an inbound marketing agency may be able to help:
Attracting the right website visitors
Qualified Lead generation.
Customer acquisition, engagement, and retention.
Underperforming online channels.
Unaligned marketing, sales, and customer service teams.
Also, if you're just getting started in business or in online marketing, an inbound marketing agency can help you develop an effective marketing presence.
Should You Hire an Inbound Marketing Agency?
Inbound marketing fosters a holistic, customer-centric approach to marketing. This not only reflects how the modern consumer makes their purchasing decisions, but it also helps teams within the company work together to achieve better results.
As a rule, inbound marketing focuses on building long-term, sustainable, and organic growth -- something that most companies can all use. While you might incorporate other faster-acting marketing campaign methods from time to time, using inbound marketing as a foundation for your marketing efforts is a sound decision.
Get the Expert Marketing Advice You Need
Schedule a free no-obligation assessment today to get insights and advice from an inbound marketing expert.