FREE WEBSITE SCAN IN MINUTES
POOR WEBSITE RESULTS HURTING
YOUR BUSINESS?
HOW HEALTHY IS YOUR WEBSITE?
Find your website health score with our no-obligation audit tool. It identifies errors on your website that impact search engine results and hamper your website's performance. Best of all, it's quick, easy, and free!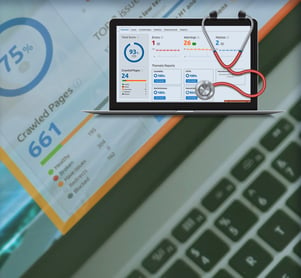 EVALUATE YOUR WEBSITE'S HEALTH IN MINUTES
Get a complimentary website audit report. Enter your domain and email address and you will get an automated report on the SEO health of your website.
In this day and age, SEO is crucial to marketing success. A poorly-performing website is the equivalent of an "out of business" sign. It turns away potential customers.
CHECK YOUR SITE IN 3 EASY STEPS
Enter your domain - the website you want to audit
Enter your email - the one you'd like the results sent to
Get your results - in just minutes you'll get your website SEO health score
FRUSTRATED WITH YOUR WEBSITE RESULTS
ANY OF THIS SOUND FAMILIAR?
You've invested a lot of time and resources in your website but are disappointed with the results.

Your not being found on Google and other search engines with your products and services

You've never tested your website to see if it is technically sound?

You're not getting leads from your website to support sales?
You're getting leads from your website but you struggle to capture sales-qualified leads.

Your website is not generating enough traffic to support your goals.

Your sales team is struggling to get qualified prospects to talk to.

It's difficult to make changes to your website.
Get your site audit today in minutes using our powerful website crawler that will analyze the health of your website, deliver an SEO Website Health Score, and a list of issues to show you where your website is struggling.
A MODERN TOOL TO CHECK THE HEALTH OF YOUR WEBSITE
Websites not properly maintained will deteriorate over time due to a number of factors. Google and other search engine crawlers need to determine whether or not your website is properly maintained. Poorly maintained websites negatively affect the user experience. For that reason, it's important to keep your website organized and maintain a good health to optimize SEO